Queen Mary, Mile End Campus
Contents: Area Map | Arrival | Campus Map | Registration | Check-in | Restaurants
Area Map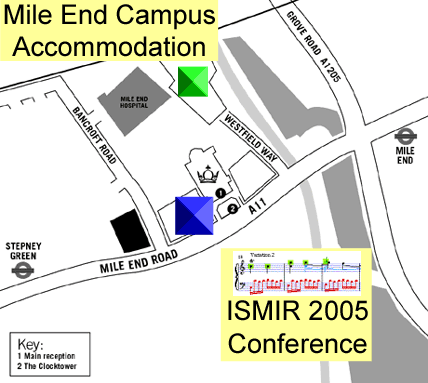 Arrival by Underground
Mile End (Central, District, Hammersmith and City Lines) and Stepney Green (District, Hammersmith and City lines) stations are both less than five minutes walk from the Mile End campus. For instructions on how to reach these Underground stations from airports or Waterloo International Eurostar terminal, see: Arrival.
From Mile End station, turn left and cross Burdett Road and Mile End Road at the traffic lights, continue along the Mile End Road until you reach the College buildings on the right. From Stepney Green, turn left out of the station, cross Globe Road and continue along Mile End Road.
Car Parking
No car parking will be available. Cars parked on the campus are likely to be clamped and a removal fee payable. The nearest pay car park is over a mile away, and local street parking is not recommended. Delegates are strongly recommended to arrive by public transport.
Campus Map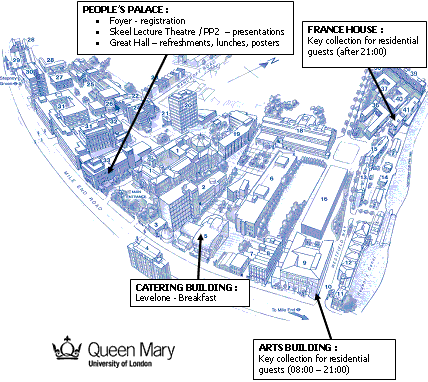 [Download: Expanded PDF version of campus map]
Registration
For delegates arriving at Queen Mary on Sunday evening (or who have attending the ISMIR tutorials at Goldsmiths), an ISMIR Registration Desk will be open 18:00 - 21:00 Sunday 11 September in the Arts Building, Queen Mary (see Campus Map above).
On Monday 12 September to Thursday 15 September, the Registration Desk will be in the People's Palace Foyer.
Note: We encourage delegates to register on Sunday, to avoid the Monday morning rush!
Check-in / Key Collection
If staying in the Campus Accommodation at Queen Mary, Mile End Campus, please collect your keys from the Conference Assistants in the Arts Building (Room G03, Ground Floor) between 08:00 and 21:00 (see Campus Map above).
Conference Assistants are on duty from 08:00 – 21:00, seven days a week, based in room G03 in the Arts Building. Contact details will be posted if they are called away from their post on an errand.
If expected to arrive after 21:00, please go to the 24 hour reception located in Sir Christopher France House ("France House") in the student village.
Breakfast will be from 07:30 – 09:00 daily at the Catering Building.
For building locations, see Campus Map above.
Note: Bedrooms are not guaranteed to be available before noon, to allow for cleaning if they were occupied previously. Residents are asked to vacate their rooms no later than 10:00 to allow cleaning ready for new arrivals. Luggage may be left with the conference assistants if required, but the College accepts no responsibility in case of loss or damage.
For check-in information for the other ISMIR hotels, see:
Restaurants and Pubs
For restaurants and pubs near Queen Mary, Mile End Campus see: Eating and Drinking