Goldsmiths College, New Cross
The ISMIR 2005 Tutorials will be held in the distinctive new Ben Pimlott Building [new window] at Goldsmiths College, on Sunday 11 September 2005.
See below for Restaurant ideas for Sunday Lunch.

New Cross Gate
Station
New Cross
Station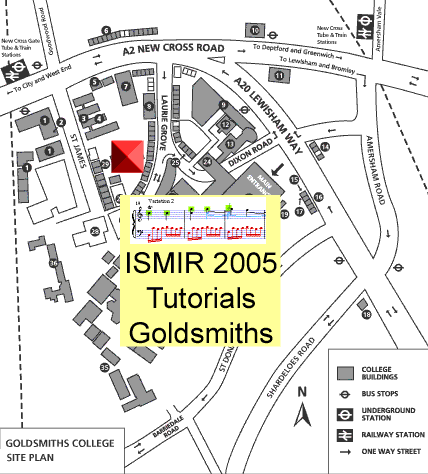 For directions from airports to the nearest Rail/Underground stations (New Cross station or New Cross Gate station) see: Arrival.
From New Cross station: turn right out of the station, and right again into New Cross Road. Keep straight ahead on New Cross Road. After crossing Lewisham Way, turn left into Laurie Grove. Turn right down a path between houses (signposted) opposite Dixon Road. The Ben Pimlott Building is in front of you, with the entrance down the path to the right.
From New Cross Gate: turn left, and cross the road at the pedestrian lights. After crossing the road, turn right (back in the direction you have just come from) then after a few metres turn left into St James. About half way along this road, turn left to reach the Ben Pimlott Building.
(If in doubt, head for the tall building with the sqiggly sculpture!)
Restaurants
Possible restaurants for lunch before the tutorials:
Aldo's Restaurant, Upstairs in the "Goldsmith's Tavern"
316 New Cross Road (Corner of New Cross Road with Laurie Grove),
London, SE14 6AF
Tel: 020 8692 7381
Anglo-Italian, variety of pastas, fillets and burgers usually with vegetarian options. Prices are reasonable.
Directions from New Cross Gate Station: Turn left out of the station. Cross the main road in front of Deptford Town Hall (clock tower) at the pedestrian crossing. The Goldsmiths' Tavern is on the corner of Laurie Grove which is on the left of the clock tower building. [You will see the Ben Pimlot Building on your way]
The Walpole Arms, New Cross [Review] [Map]
407 New Cross Road,
London, SE14 6LA
Tel: 020 8692 2080
Thai Food in a pub atmosphere. Prices reasonable.
Directions from New Cross Station: Turn right out of station. Then right again, along New Cross Road. The Walpole Arms is a purple pub 150m on the right.